Children's Services
It's common for children who have been sexually abused to react in different ways
Some children withdraw, others have outbursts of strong emotions, and sometimes there are behaviors that are challenging or hard to understand.  Sometimes these patterns overlap.  As an important adult in the child's life, it's vital that you actively listen and respond in ways that the child knows that you believe him or her.  We coach family members to practice patience, and – over time – learn more about how kids and families deal with (and heal from) sexual abuse.
Needs of children who have been abused
To be told that the abuse was not their fault and they did nothing wrong: over and over again.
To be believed and reassured that they were right to tell.
To be informed of what will happen next: use language and information that the child understands.
To receive support and love.
To be assessed for counseling.
Please refer to our For Parents page for more information.
About our Children's Services
We provide free counseling services for girls and boys (ages 2+) who have been sexually abused, as well as for kids for kids who might have been abused, or are otherwise interested in learning about safe touch and personal boundaries. Our Master's level Counselors have received specialized training in helping kids heal from the effects of sexual abuse.
We provide individual (1:1) counseling for children, and sometimes we provide groups: Building Blocks (ages 3-6), Stepping Stones (ages 6-12), and Teen Group (13-17).   In addition, we sometimes provide specialized groups in response to unique needs. The 1:1 sessions are usually 50 minutes, once a week; group sessions are usually 60-90 minutes and also occur weekly.
Our approach to helping children is "kid-friendly", and – especially for the younger children – features therapeutic uses of play, imagination, and activities.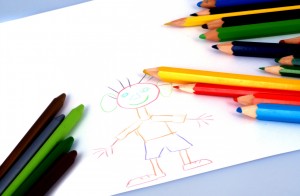 As the child's sense of trust and safety are established, the sessions gradually focus on the child's experience and understanding of not only the sexual abuse, but also on healthy aspects of expressing and exploring emotions, practicing how to manage powerful feelings and urges, as well as promoting healthy perspectives of trust, touch, body awareness, boundaries, and getting along with others.
We expect the child's primary's caregiver – whether a parent or significant other – to participate in counseling.  Since we usually see the child just once a week, collaboration and cooperation with the caregiver is very valuable.  The Counselor may ask the caregiver to join part of the child's 1:1 session, and also may give 'home study' assignments for the caregiver and child to work on together (like reading and talking about a story, or doing a simple art project).   In our Building Blocks and Stepping Stone groups, the caregiver and child participate in all the sessions together.  This is helpful both for the child and the caregiver.