La Casa de los Soles
Promoting Resilient Communities
Sponsored by Robert Wood Johnson Foundation
Cristina Perez, Founder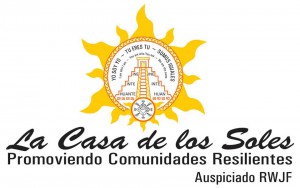 La Casa de los Soles mission is to provide services to the multicultural immigrant community in the city of Philadelphia. Our bilingual work plan has been designed and aimed at two levels and populations respectively: at the community level developing cognitive, emotional and social skills; helping to form upstanding citizens through psycho-educational workshops that include theoretical, practical and experiential information from the resiliency perspective. On the other hand, at the second level, our goal is to reach those professionals in the education and mental health fields with training programs of awareness and primary prevention. The Resiliency model is an alternative tool to treat those who have been affected by trauma, those individuals affected by any form of violence.
Our trainings combine our well known sexual assault preventive-educational program with Resiliency, to promote, physical, mental and emotional health, which allows integrating the concept of resilience at the level of our community-educational work. This program is beyond education, it seeks transformation to eliminate all forms of violence. Re-educate our Latino communities by enhancing possibilities and resources, strengthening natural attributes, and incorporating health and wellness to build resilient communities. The program has two levels: Level 1- an introduction to resiliency and its different models to provide direct service to survivors of sexual abuse in the city of Philadelphia, level 2 is for continuing education, participants increase their knowledge in Resiliency and are more prepare for volunteering opportunities. Workshops are conducted in 30, 60, 90 minutes sessions on a single day or multiple sessions.
This training is designed for the general public, to all those individuals in the community who are leaders and want to change their neighborhoods by learning the concept of resiliency and the application in the community. It is a 40 hour certify training. Participants can use the gained knowledge for the application and maintenance of resiliency in their life. Participants can volunteer as a community promoter of resiliency at the Community Outreach Department, yet further guidelines has to be completed before volunteering, such as: criminal record background check and child abuse clearance.
Program
Introduction to the concept of resilience.
The magic words "I Am" "I Can" "I have"
Self portrait, "The apple that wanted to be a star."
Acknowledging our emotions.
Family resilience.
Developing a healthy and harmonious family atmosphere. The house of resiliency
Resilience as a concept auto-release.
Our Groups Include:
Resiliency Certification for Professionals
School Support
MUVYR (Immigrant Women with Voice)
Men in Transition: Collective Masculinity (HTCM)
Continuing Education Workshops for Professionals and General Public
For more information contact our Latin Department at 215-985-3315 extension, 175.
To open the full PDF of La Casa de los Soles click here.
Latino community outreach department also welcomes the opportunity to participate in city-wide events and community health fairs.