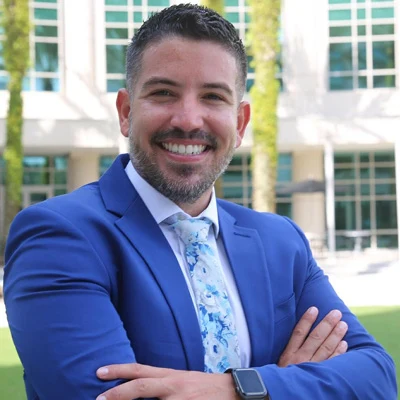 Omar Martinez, JD, MPH, MS
Omar Martinez completed a dual degree program, simultaneously gaining his master's degree in public health and juris doctorate at Indiana University-Bloomington. He also completed a master's degree in clinical research methods at Columbia University Mailman School of Public Health. Professor Martinez completed an NIH T32 postdoctoral research fellowship in behavioral science research in HIV prevention at the HIV Center for Clinical and Behavioral Studies at Columbia University and the New York State Psychiatric Institute.
Martinez is an Associate Professor in the Population Health Sciences Department, College of Medicine, University of Central Florida. Professor Martinez's research expertise includes the correlates, prevalence, and prevention of substance use, mental illness, and HIV among underserved and vulnerable populations. His work has contributed to a better understanding of the impact of syndemic factors, including both individual-level factors (e.g. substance use and mental health problems) and the larger social context (e.g. immigration policies, stigma, discrimination, structural racism, violence, and cultural imperialism that affects the overall health outcomes among systematically and structurally excluded populations.
His experiences also include developing and implementing programs and interventions to address health disparities and inequities, including HoMBReS, a best-evidence community-level intervention HIV prevention intervention for self-identified heterosexual Latinxs; Connect n' Unite, a couple-based behavioral HIV prevention intervention for Black men who have sex with men; Connecting Latinos en Parejas, a couple-based HIV prevention and treatment intervention for Latino men who have sex with men; Trans Equity Research Project, a homegrown, peer-led, group-level HIV prevention and care intervention, in English and Spanish, for men and women of trans experience; and Juntas Contra el Virus del Papiloma Humano, an HPV self-sampling intervention for under-screened Latinas. He is currently leading an NIH study to assess the feasibility and acceptability the Organizational Partnerships for Healthy Living, an innovative, multilevel intervention package intended for health care organizations serving people living with HIV(PLWH).
Professor Martinez is the director of the Implementation Science Research Lab. The lab has developed a national and international reputation for conducting high-impact health disparities research and for providing a unique venue for training the next generation of biobehavioral researchers. The lab focuses on research to enhance the development, uptake, effectiveness and efficiency of evidence-based interventions and policies within clinical and community settings in order to improve population health and reduce health disparities.