Sing Out Loud – Singing for Survival
An event raising awareness about sexual violence while raising critical funds needed for WOAR's free services.
April 22, 2020 | 6-8 pm
Features a performance by the all-star Sing Out Loud Chorale exhibiting a unified, powerful voice through the silence surrounding the issue of sexual violence.
About Sing Out Loud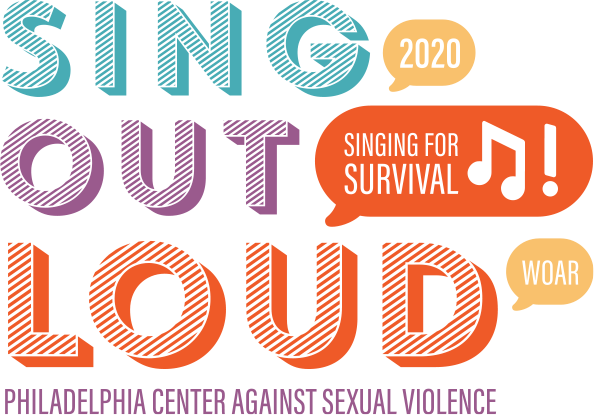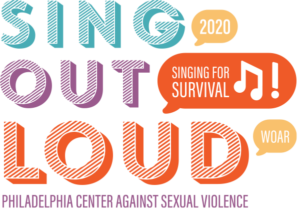 WOAR-Philadelphia Center Against Sexual Violence invites you to partner with us for Sing Out Loud 2020 – Singing for Survival.
WOAR is combining its support services with the arts by creating a choral made up of survivors, friends, community advocates, and partners who will use their hearts and voices in support of the only rape crisis center in Philadelphia.
The Sing Out Loud 2020 – Singing for Survival will take place on Wednesday, April 22, 2019, 5:30 at The Academy of Science of Drexel University, 1900 Benjamin Franklin Parkway, Philadelphia, PA  19103.
This musical event will attract over 300 leaders who hail from the corporate, private, government and public sectors to cultivate deep relationships while benefiting the more than 77,409 individuals WOAR served in 2018. We invite you to join us in support of WOAR's mission to eliminate sexual assault in Philadelphia.
Sponsorship Levels
Presenting Sponsor – $20,000
Presenting Sponsor Naming Rights
Prominent placement of company logo on all printed and promotional materials: invitation, signage, honoree video, press releases, program book, WOAR website and WOAR social media outlets
Centerfold full page color ad in program book
Opportunity to address the audience from the stage during event
Banner display at Event
Professional photos with honorees and other distinguished guests
Feature Article in WOAR Newsletter
12 tickets to pre-performance reception and performance
Soprano Sponsor – $15,000
Prominent placement of company logo on all printed and promotional materials: invitation, signage, honoree video, press releases, program, WOAR website and WOAR social media outlets Front or back inside cover full-page color ad in program book
Recognition from the stage during the program
Banner display at Event
Professional photos with honorees and other distinguished guests
10 tickets to pre-performance reception and performance
Alto Sponsor – $10,000
Placement of company logo on all printed and promotional materials: invitation, signage, honoree video, press releases, program book, WOAR website and WOAR social media outlets
Full page color ad in program book
Recognition from the stage during the program
10 tickets to pre-performance reception and performance
Tenor Sponsor – $5,000
Placement of company logo on printed and promotional materials: signage, program book, and WOAR website
Half-page color ad in program book
Recognition from the stage during the program
8 tickets to pre-performance reception and performance
Baritone Sponsor – $2,500
Placement of company logo on printed and promotional materials: program book, and WOAR website
Half-page color ad in program book
6 tickets to pre-performance reception and performance
Bass Sponsor – $1,000
Half-page color ad in program book
4 tickets to pre-performance reception and performance
Treble Sponsor – $500
Half-page color ad in program book
2 tickets to VIP pre-performance reception and performance
Presenting Sponsor