20th Anniversary of Sexual Assault Awareness Month:

SAAM 2021 Calendar
To ensure the safety of our community and staff, all events will be hosted virtually. Please note all event times are EST. Please check this page periodically for the latest information as details/links are being confirmed daily.
Thursday, April 1st – TBD
Please consider filling out WOAR's Citywide Assessment Survey. We want to know from you how we can better our services.

MUST be a victim or survivor of sexual violence, live in Philadelphia, and over the age of 18.
Tuesday, April 6th
SAAM Day of Action
Follow us on social media for more information regarding each action.
Tuesday, April 6th at 11AM

Tuesday, April 6th
Wear Teal Day
We ask you to join us on this very special day to honor victims and survivors of sexual violence by wearing teal, posting pictures on your social media platforms, tag us, and use #woarriorswearteal and #weartealday2021
Tuesday, April 13th at 1PM

Kahoot True/False Sexual Violence Trivia
WOARRIORS, do you know the ins and outs of WOAR?
Yes, well let's put it to the test.
Join us on Zoom for a fun game of trivia through Kahoot to see how well you know WOAR!
Tuesday, April 20th at 1PM

These trainings seek to normalize discussions about sexual violence and provide community members and professionals the opportunity to expand their knowledge about sexual violence. Attendees will also gain awareness about resources and ways to support themselves or others. Topics include: counseling, prevention and intervention education, human trafficking, court and legal advocacy, and more!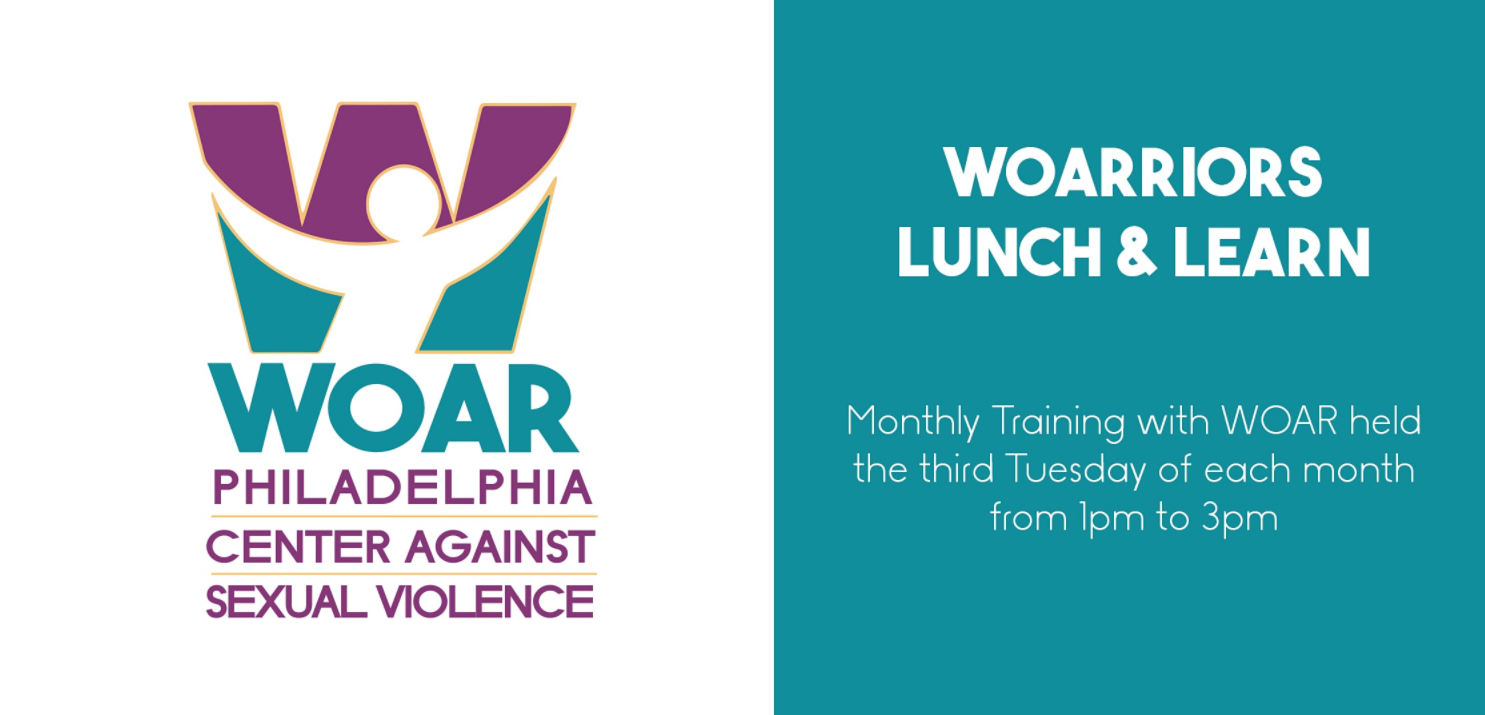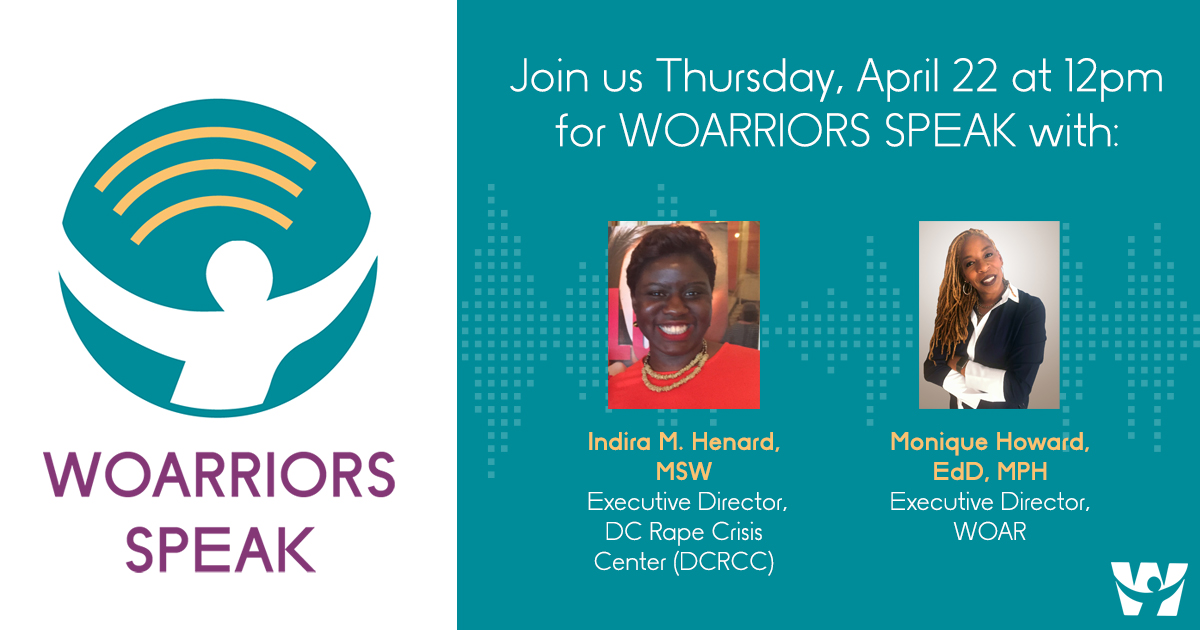 Thursday, April 22 at 5:30PM
Sing Out Loud: Singing for Survival
Join us for a virtual, family friendly event from the comforts of your home benefiting a dire need within the community — services and preventative education for children and adults who have experienced sexual violence. We are committed to empowering our community through the healing of music & art.
Wednesday, April 28th

Brotherly Munch provides men the opportunity to convene in a safe space to discuss and challenge toxic behaviors, thoughts, and actions that have been conditioned and normalized. This brings education and awareness to men while encouraging a pursuit of a holistic version of masculinity and stimulating the creation of ambassadors of healthy manhood for future generations.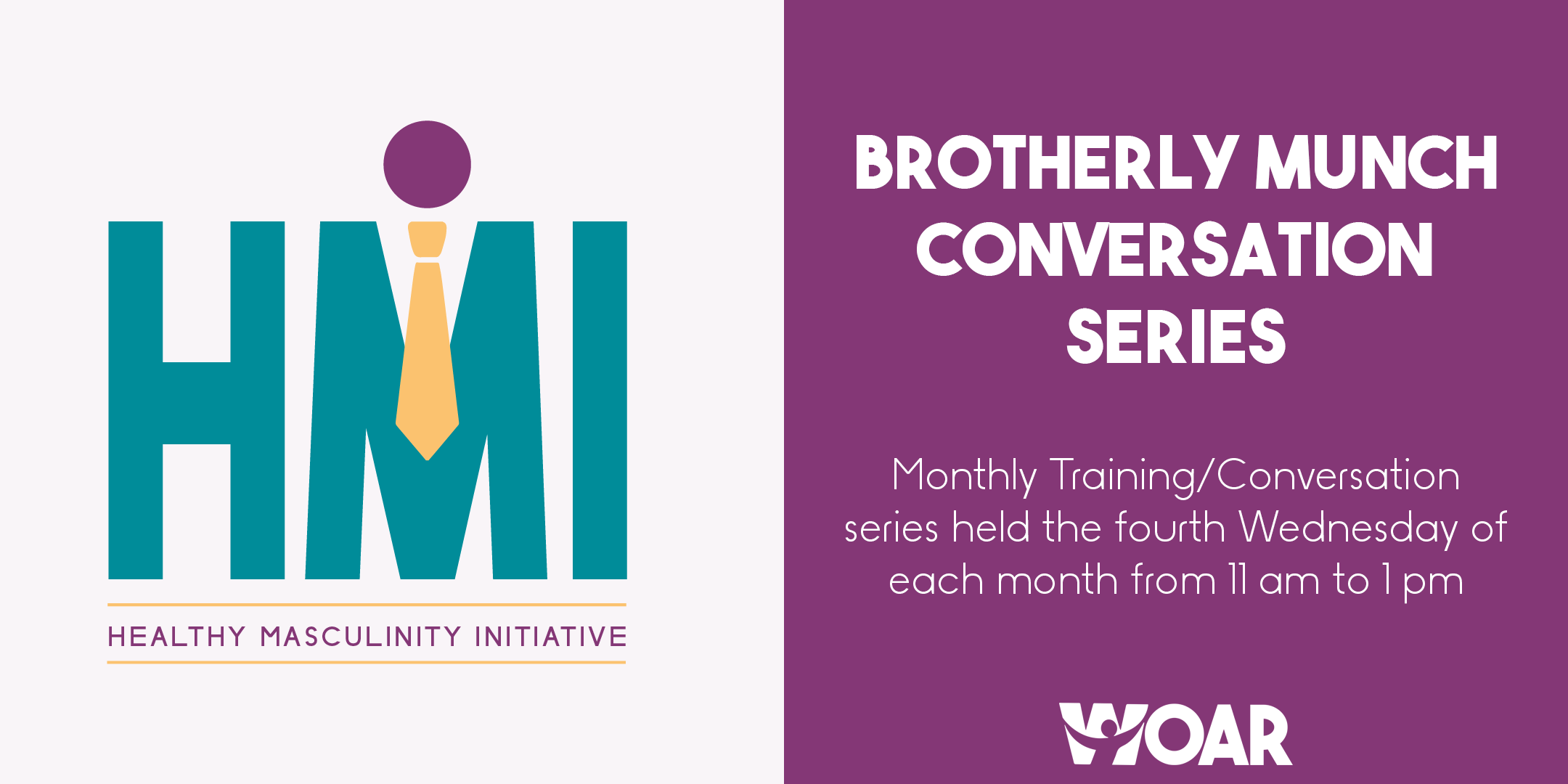 Wednesday, April 28th

Denim Day
This year WOAR is joining Peace Over Violence's campaign Denim Day. We will be wearing denim to show solidarity to victims, making signs addressing that clothing does not equal consent, and posting them using #denimday2021 #woarriorsweardenim
Friday, April 30th at 12PM

Join us as we share a moment of silence for survivors before discussing with policy changes to help survivors/victims.
Thursday, April 1st – 23rd
Capturing My Healing Online Photography Exhibit (Part 1)
Are you a survivor and want to anonymously be a part of our community narrative? This exhibit is curated in partnership with the non-profit organization Our Wave, which provides a secure and anonymous platform where survivors can share their stories and artwork while contributing to our understanding of the healing journey. Want to share your experience and be featured in this exhibit? Share your experiences and what healing means to you through storytelling or other creative mechanisms (e.g. artwork, photography, poetry).
Wednesday, April 7th 5:30 – 6:30 p.m.
Statute of Limitations for Adult Survivors of Child Abuse
What does it mean and how is it changing in PA?
Join us as we break down what you need to know about the status of statute of limitations reform for sexual abuse cases in Pennsylvania. Experts discuss ongoing efforts in the Pennsylvania legislature open a path for adult survivors of child sexual abuse who have timed out of the legal system to seek justice in civil court. We'll discuss the options lawmakers have available including amendments to the PA constitution and new statutory legislation under consideration.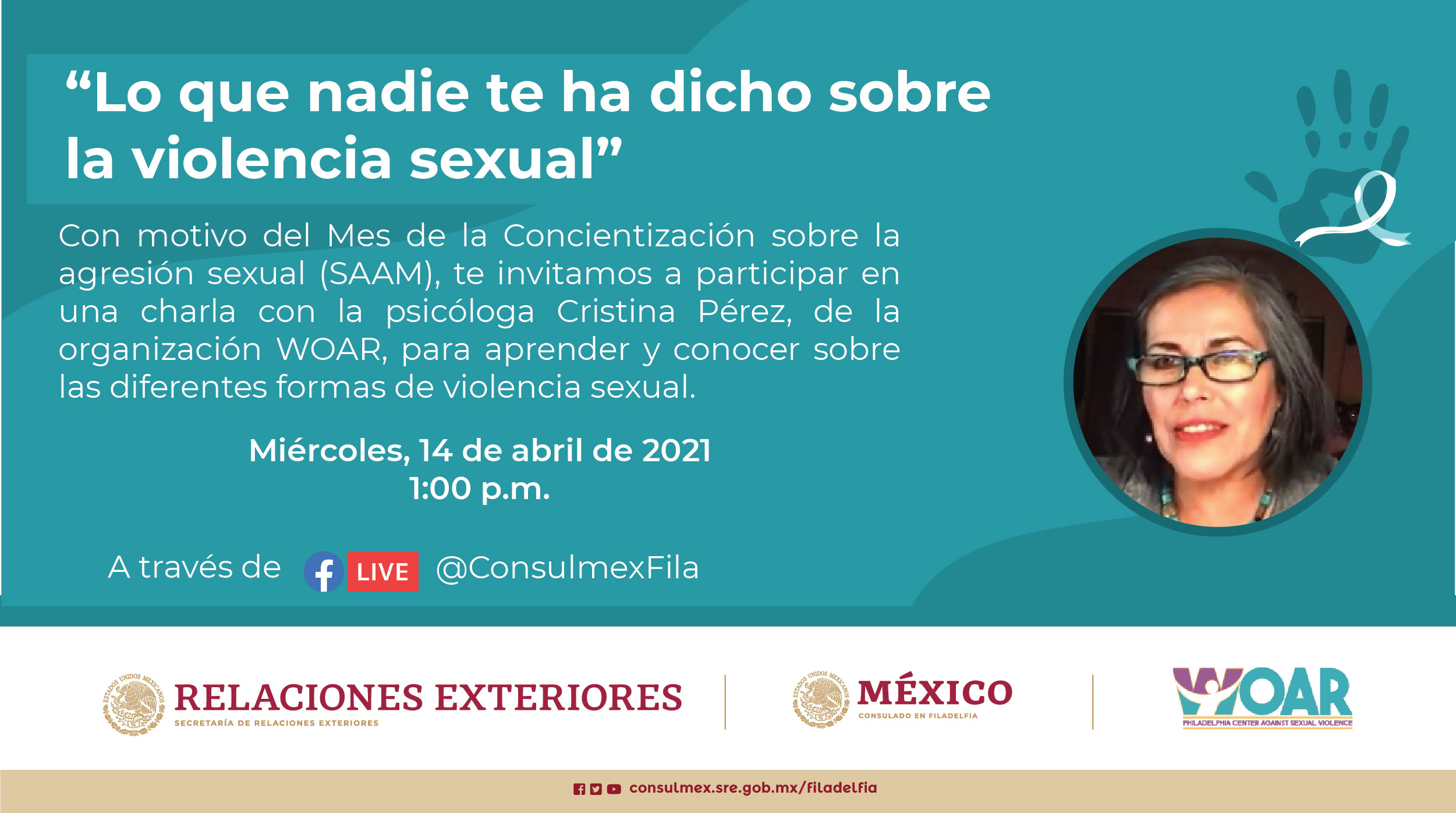 Wednesday, April 14th at 2:30PM (Instagram)
Monday, April 19 at 6PM
From Bystander to Unstander: The Role of Men in Ending Sexual Violence and Dismantling Rape Culture
Are you interested in how men can dismantle rape culture? Do you have a friend that's actions are worrying you and you're not sure how to start that conversation? Attend this panel discussion to hear a conversation about how men can address sexual assault and gender based violence. There will be breakout groups to discuss how to connect the discussion to your everyday lives.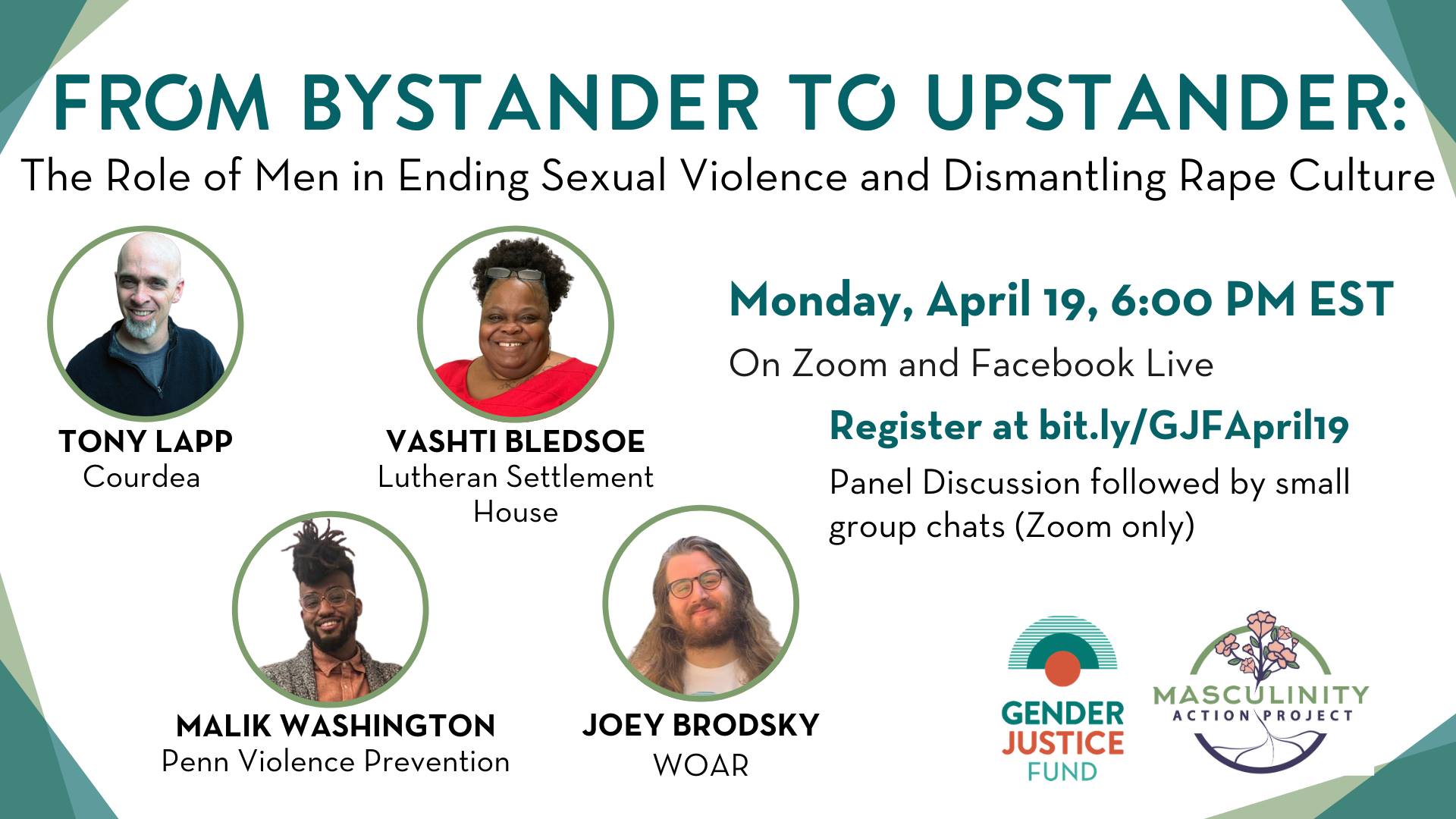 Monday, April 19 at 6PM
Philadelphia Police Advisory Committee
Our Education and Outreach Specialist, Tyrone Melvin, will be presenting.
Topic: The Process for Survivors to Obtain Services and Support.
Monday, April 26th at 4 PM
Capturing My Healing Online Photography Exhibit (Part 2)
Healing after trauma and violence is not a linear process, but what can we learn through the voices of those who have experienced it?
Join us for an online exhibit which shares photographs and stories taken by survivors of sexual and intimate partner violence as they explored their healing journey. WOAR was an important partner in the data collection for this event, and this exhibit features the stories of some of WOAR's clients, along with other survivors within Philadelphia community. We hope we can join together as a community to build hope that healing is possible in time and help us all understand how we can create a more supportive healing environment for survivors.
Monday, April 26th at 4 PM
An opening dialogue with the creator of the exhibit , Dr. Laura Sinko will take place via Zoom where she will debut her short film about healing after campus sexual assault titled "Finding The Strength to Heal" and will be available to answer any other attendee questions.