2023 Jody Pinto Lifetime Achievement Award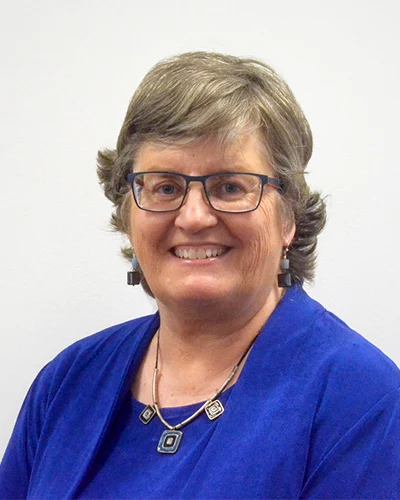 Karen Baker, LMSW
CEO, Respect Together
Karen Baker has served as Chief Executive Officer of the recently rebranded Respect Together, which includes the Pennsylvania Coalition to Advance Respect (PCAR) and the National Sexual Violence Resource Center (NSVRC) since March 2018. Prior to that, she served as the NSVRC Director since its opening in 2000. PCAR works with a network of rape crisis centers serving survivors and communities in all 67 counties of Pennsylvania; and works with local, state, and national leaders to prevent sexual violence and advocate for social justice. Ms. Baker is a Managing Partner of RALIANCE, a Washington DC-based collaborative to end sexual violence. She was appointed by Governor Wolf to serve as a Commissioner on the Pennsylvania Commission on Crime and Delinquency (PCCD) from 2018-2022; and was recently appointed to serve on PCCD's Victim Services Advisory Committee. With a Master's Degree in Social Work from the University of Kansas, she has expertise in prevention, messaging, children's issues, and collaborating for positive social change.
2023 Carol Johnson Humanitarian Award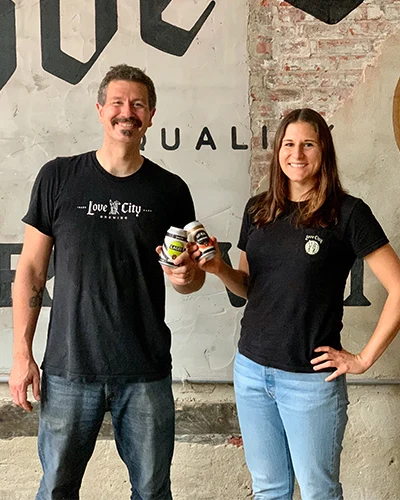 Melissa & Kevin Walter
Co-founders of Love City Brewing
Melissa and Kevin met over a keg at a friend's New Year's Eve Party, and as their love grew for each other, so did their love of good beer. They were introduced to the wonders of craft beer by Kevin's career with Iron Hill Brewery. They even brewed a beer together for their wedding on New Year's Eve 2011. Melissa and Kevin found a home in Philadelphia, a city they love and they believe is reclaiming its space on the national stage while not being afraid to be its unique self.
As they got to know Philadelphia, they fell in love with its rich brewing history. We were amazed by the number of breweries that existed here (nearly 700 before Prohibition was enacted). Each neighborhood had a brewery that served the local residents, and beer was a part of every table. Melissa and Kevin think you should know your local brewer, and be able to watch your beer being made.
At Love City, the brewery Melissa and Kevin launched, in their words, "we take care of each other. We prioritize relationships with our customers, colleagues, and community. We grow at a pace that allows us to maintain these values and priorities. We work hard to demonstrate what a craft brewery should be – a responsible small business that makes outstanding beer while respecting the people that make it possible." Through this commitment, Love City became an anchor member of WOAR's Safe Bars Philly program, has encouraged other bar owners to join this effort to fight sexual violence, and has successfully raised funds to support WOAR's mission.
2023 WOAR Visionary Award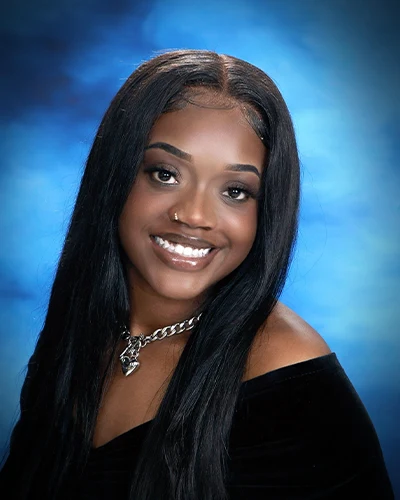 Keonna Hanayah Forrest-Henderson
Student
WOAR Youth Leader
Keonna Hanayah Forrest-Henderson is an 18-year-old African American young woman and South Philadelphia native who has created an early impact on the field of Sexual Violence Prevention and Awareness. Keonna is a graduate from Sankofa Freedom Academy Charter school where she earned her high school diploma and organized Sexual Assault Awareness Week for her teachers and peers for two consecutive years.
Keonna is now a student at Delaware State University, Majoring in Criminal Justice, and Minoring in Law studies. She has hopes of pursuing a career in Criminal Defense, Prosecution and would like to serve as a Federal Attorney.
She is the youngest child of Kenya and Herbert Forrest. She believes that she is destined to help survivors of sexual assault by spreading awareness of the prevalence this act has upon young people and society. She's determined to be the change she wants to see in the world.